man, why does work have to be so busy it keeps me from BLOGGING! pooh.
on the plus side, it looks like I will be a coauthor on two papers for which I've been doing a lot of recent work on (WHOOPEE!). There's been a lot of talk about recommendations, and grad school applications with my boss which has been good (and quite encouraging), but has stressed me out extensively!
knitting
I've been so busy this week and evenings, that I haven't been able to knit either. So my cleaves is still ALMOST done. I have about 4 more inches to knit of the cowl part.
food
This past Monday was ervy and my 3 year anniversary (of dating). We celebrated by getting
evan
ourselves a smoker to make very tasty meats. Ervy has been wanting one for quite a while now, so I decided it would be more fun to put the money we would have spent on a really nice dinner out toward buying the new toy. So while I finished reading Harry Potter last Sunday, ervy spent the day smoking 3 racks of ribs and a huge pork butt. This is the smoked pork butt. We then had the task of sitting and pulling it into pulled pork strips.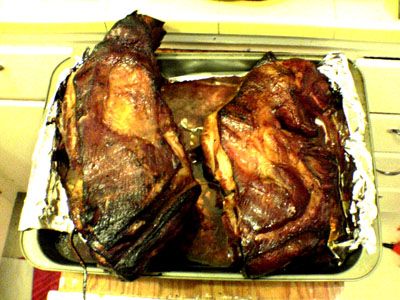 After the pulling, ervy mixed it up with some bbq saucey flavoring he worked up, and we had DELICIOUS BBQ pulled pork sandwiches for a wonderful anniversary dinner!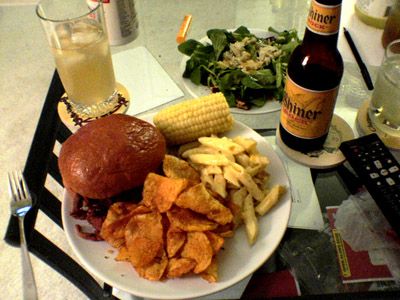 On a more alcoholic note, ervy's new Esquire came, and both he and I were quite interested in what the magazine described as the original type of daiquiri. It takes some nice white rum (they recommend
10 Cane
White rum as the best), half a lime and a little sugar shaken up with ice and you have a wonderful drink that completely shadows the overly sugary blended drinks that bear its name at restaurants and bars. Yum! Believe me, they're wonderful for taking the edge off when you get home from work. Mmmm...
random
My brother and family have been invited to the Dr. Phil show. My uncle Terril wrote an article on how teenagers use technology and it was featured on the front page of the LA Times. So the producers of the Dr. Phil show saw it, and now would like to do a show on it. None of my family has really watched the show. So my family is going to watch a few shows, and find out more from the producers about what the angle of the story is before they make any decisions.
I think it would be funny to see my brother on Dr. Phil.