It's been odd getting back into work after all my visits. I'm currently having a lot of fun using
ipums
to look at census and cps/acs data. It just astounds me how much information is at a person's fingertips nowadays! It's actually quite exciting.
Anyhow, I'm mostly working from home on these analyses, so I get to fix myself simple food for lunch or dinner. One of my FAVORITE simple foods to do is just go to Whole Foods and pick up a roast chicken and roast up some veggies to go with it. But really, it's the next day that I LOVE even more! You see, after evan and I have eaten most of the chicken, it becomes... CONGEE DAY!!!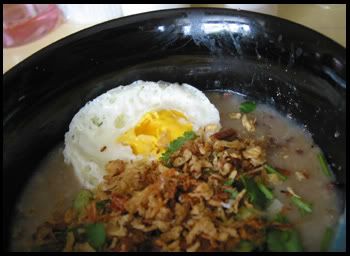 Congee day Recipe
1 left over roast chicken (bones and all)
1 C rice
6 C water/or broth from bones
1 t sea salt

Optional:
handful of sliced mushrooms (I used some leftover portobello slices)
1 century egg cut in quarters

Garnish:
chopped scallions
chopped cilantro
cooked egg
pork sung

1. If you have time you can make a broth from your chicken bones first instead of placing the bones in the slow cooker. I find it easy to throw the bones into the slowcooker too, just make sure you watch for bones when you're eating the congee.

2. Place bones or broth from bones, rice, salt, century egg, and mushrooms in your slow cooker. Cook on low for 6 hours or so.

Garnish and enjoy for an easy tasty meal!
In other news, Jess Dang (in my year at Stanford) apparently didn't make it through the premiere of the Next Food Network Star. On her blog,
thepetitepig.com
, she discusses the show.
My favorite bit has to be this:
"what did morimoto say to you?:
"i would not serve your food to human beings." no joke. but believe me, when someone like morimoto talks to you even if it's completely negative, you just smile. he's morimoto after all. what a culinary god. did you see what he did to that cucumber?"