Even after going through my hooding ceremony, I'm pretty sure I'll always be ready to learn something new! In that way, I'm totes going to live my life as a perpetual student.
This outfit was fully inspired by that idea. That, and I felt like working out a preppy, nerdy vibe. The glasses and the child's sweater definitely take this outfit a tad over the top. But that's what's fun about it. Nerdy, fun and comfortable. This was highly appropriate given that I spent the afternoon in a coffee shop working on some data analyses.
I know that the Every Body Every Wear theme is yellow today. And this outfit looks more green than yellow. But, hey! Look! That is a large swath of yellow there in the middle of the sweater. So I call it good!
Plus, now you can see how well yellow and green go together. You're welcome. :)
Other news
* I'm now a
pescetarian
nerd. I decided to keep eating fish because I've been making and loving ceviche every week. Fresh rockfish from the farmer's market has been AMAZING! Does anyone have any awesome seafood or vegetarian recipes they'd like to share with me? Pretty please?!
* Ev and I celebrated 4 years of marriage last week!
* I gave blood and found out I have A+ blood type. The nerd in me was excited because it sounds like an awesome grade. My dad's response?
"Not sure if I have A+ too but I think I have phi beta capillaries with Distinction."
LOL. Now y'all know where I get my kooky humor.
* Budz had an oncology checkup and his ultrasound and x-rays came back clean (no cancer recurrence)! Woohoo!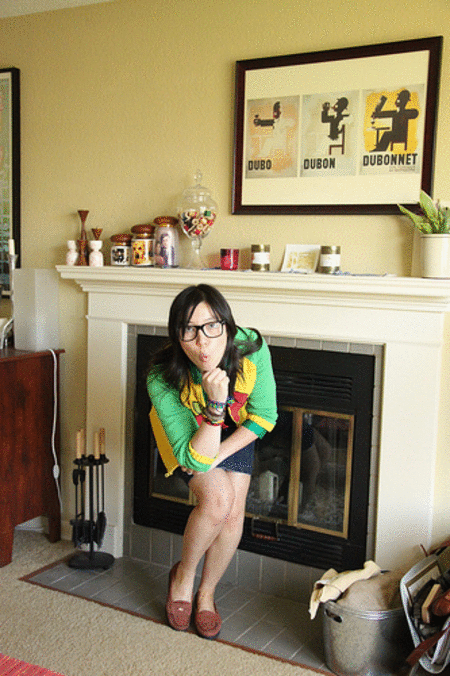 I scored these penny loafers off of Ebay. I've wanted penny loafers ever since middle school. One of my best friends wore some awesome leather ones to school. She had pennies in hers. Man, I just thought that was the coolest thing ever. Apparently, it was during the 1950's that people started slipping pennies into their loafers as a fashion statement. I don't know why it took so long for me to get my own pair. But, as soon as they arrived, I stuck pennies in them! So I missed the 1950's trend by like 60 years...
Yellow/Green Nerd OOTD
Gap kids cardigan (thrifted $4)
Banana Republic green button up sz XS ($10)
J.Crew jean skirt sz 0 (thrifted $5)
J.Crew red-white gingham belt (thrifted $1)
Cole Haan suede penny loafers (ebay $15)