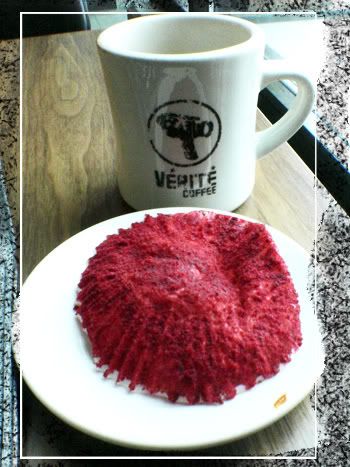 It's the first day of Spring quarter, and since I was sick most of
break, I figured I would skip going home right after school and head
over to Ballard. I decided to go to
Cupcake Royale
for some sugar
and caffeine--a graduate student's two best friends. They serve Verite
coffee, which I have to say was quite delicious. They were brewing
Ethiopia Happy Valley today on drip, and it had a lovely earthiness to
go with my sweet red velvet cupcake. I didn't think to blog until
after I ate my cupcake, but the proof is there in the overly dyed
wrapper, eh? The cupcake itself wasn't that extraordinary beyond the
red dye. It was a little dry actually, but it still made me happy just
to have a pretty confection.
I like the vibe of this place. They already cycled through a Mates of
States CD making me extremely happy. The music selection has been
quite good in general after that too. It's a very laid back, Seattle
coffee shop with lots of pink cupcake boxes and globe lanterns.
There's of course free wifi (but there's rarely a coffee place here
without that), and there's a magnificent metallic cupcake right above
the doorway when you come in.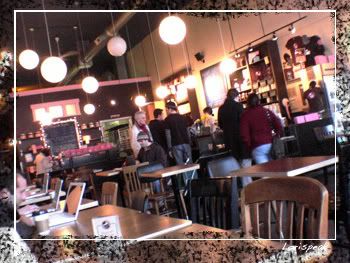 I have to say it's extremely delightful to sit here and watch children
come by with their parents and grandparents, so excited for a sugary
cupcake! Otherwise, the clientele are very unordinary Seattle people,
almost all of whom are on Mac computers (myself included).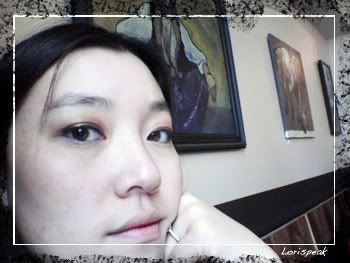 Yikes! I think you can still see the Winter quarter blues on my face.
Overall, this is a great place to chill and pretend I have a life
outside of graduate school. You can take the 44 bus straight from UW
campus into Ballard and hit this joint on the way.
Cupcake Royale
Ballard 2052 NW Market St 206.782.9557

They have some cute cupcake shirts to check out too.